About Ed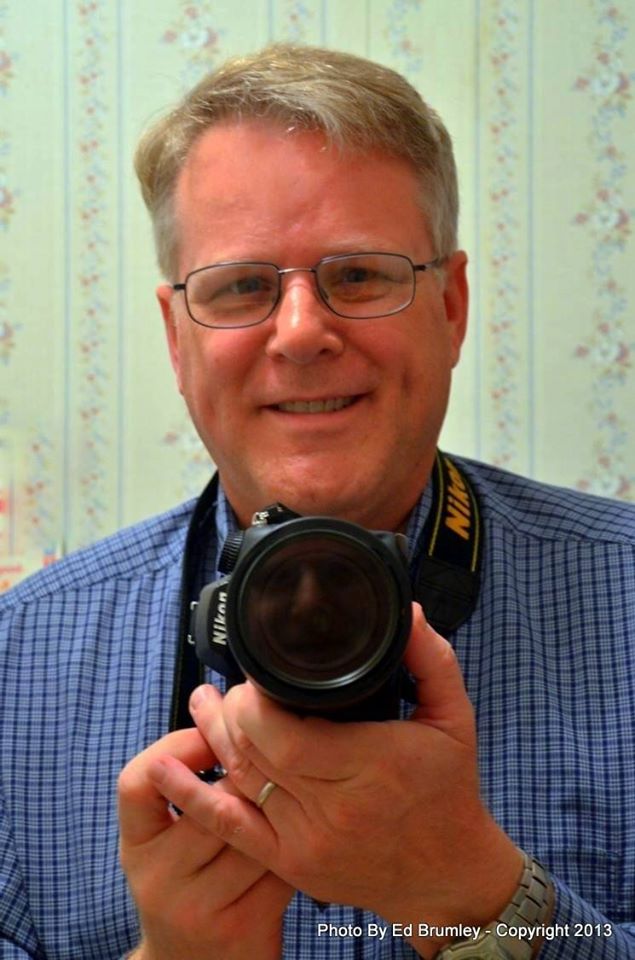 I was born and raised in Lawrenceville and with the exception of my tour of duty in the U.S. Air Force, college and short stints in Springfield and Evansville, I have lived in Lawrenceville my entire life. Even when I lived away I always had my heart in Lawrenceville and couldnt wait to get back, because I love our town. Im not just a citizen, but an active participant in numerous activities that seek to improve our community. Im very proud of Lawrenceville and will do everything possible to maintain that small town atmosphere and charm.
My wife, Dianne Dehner Brumley, (originally from Olney) and I both graduated from Eastern Illinois University. You may know Dianne as the Library Director of our Lawrence Public Library. We were married in 1988 and have two daughters, Shannon and Muriel, and are grateful that our children have grown up close to relatives and live in a town with an identity where people know each other and care about one another.
Here is a little more about who I am...
U.S. Air Force Veteran
I enlisted in the U.S. Air Force after graduating from Lawrenceville High School in 1976. A copy of my DD-214, record of military service, is on file at the Lawrence County Court House.
I served three years on the Unit Advisory Council (similar to a City Council) in the U.S. Air Force.
I received numerous letters of recognition and was awarded the U.S. Air Force Commendation Medal, Good Conduct Medal, and served 4 years active service and 2 years inactive service (on call) and was honorably discharged in 1983.

Attended Olney Central College (1981 1983)
Elected Student Senator my freshman year.
Elected President of Student Council my sophomore year.
Recipient of Most Outstanding Freshman Leader Award along with a full scholarship for my sophomore year.
Yearbook Photographer, 2 years
Phi Theta Kappa charter member

Graduated Eastern Illinois University with a Bachelor in Science degree in 1985

Member of Rotary International with perfect attendance (1995 present)
Personally became a Paul Harris Fellow - May 2001
Served as President of the Rotary Club of Lawrenceville 2002 2003
Served as Secretary of the Rotary Club of Richland County from 2007 2012
Designated my Daughter (Muriel) as a Paul Harris Fellow - on December 12th, 2012 - for her commitment to world peace as a Rotary Youth Exchange Student - Trecase Italy - 2013-14 school year.
Rotary Club of Richland County designated my wife, Dianne, as a Paul Harris Fellow - June 2015 - for her past commitment to service as a Rotary Youth Exchange mother.
Certified as Rotary Youth Exchange Officer - March 2015 (Registered with the U.S. State Department)
Served as Treasurer of Rotary Club of Lawrenceville from July 2015 to November 2016.
And served as Secretary of Rotary Club of Lawrenceville from January 2016 to November 2016.
Currently serve as Executive Secretary (backup) for the Rotary Club of Lawrenceville since November 2016.

Lawrence County and City of Lawrenceville
Member of the Tax Increment Finance Committee for the City of Lawrenceville (2012 to 2021)Served as member of the Lawrenceville Planning Commission assisting and implementing the Comprehensive Plan and Pre-Disaster Mitigation Plan for our city. (2013 to 2016)
Serve as President of Endowment and Development Board for the Lawrence County Memorial Hospital (1997 2017)
Served on the Lawrence County Arts Council Board of Directors from 2004, and was their Treasurer from 2009 to November 2017.
Currently vollunteer my support and photography services to the Lawrence County Historical Society.
Formerly served as Executive Director for the Southeast IllinoisConvention and Visitors Bureau (2006 2011). I represented and promoted the 10 counties of; Lawrence, Clay, Crawford, Cumberland, Edwards, Jasper, Richland, Wabash, Wayne, and White.
I'm passionate about the vitality of the city of Lawrenceville and support the efforts of the Downtown Revitalization Committee.
I am a former Adjunct Instructor for Frontier Community College where I taught Digital Photography here in Lawrenceville from 2008 to 2016.

I currently use and am knowledgeable with:
QuickBooks, MS Word, Publisher, Excel, PowerPoint, Outlook, Google Maps, Google Earth, Youtube and many more.

Links:
COPYRIGHT NOTICE
Photography (Images and video) on my website, and stored at other sites, are for your viewing enjoyment only and are NOT public domain. They are protected under the artist's publishing and licensing copyright and may not be; copied, saved, printed, downloaded, uploaded, posted, altered, presented or exchanged in any public or private fashion without written permission from Ed Brumley. If you would like to; buy, or license, any of my work, please ask me for a FREE no obligation quote!